Planning reprieve for Norwich Prison's Cafe Britannia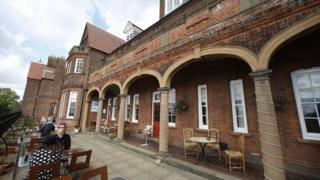 A prisoner-run cafe that had been the subject of complaints is to stay open.
Cafe Britannia opened at Norwich Prison in 2013 and had not required planning consent, as it was considered an "ancillary use" of the jail.
However, the city council reviewed its status after complaints were made about its scale and increased traffic and noise.
Owner Britannia Enterprises has been asked to comment, but previously said it would comply with the council.
The cafe, which overlooks the city from Mousehold Heath, is based outside the main walls and used to be an officers' mess.
Norwich City Council's planning department revisited the case and decided the building no longer qualified for consent exemption, after seeking legal advice.
Three options were put before the authority's planning committee on Thursday: to do nothing, to close the premises, or to allow it to stay open with conditions.
Option three was approved and Britannia Services will now have to add a new pedestrian entrance, cycle access and limit opening to 07:30 to 22:00.