Norwich murder accused 'admitted hammer attack'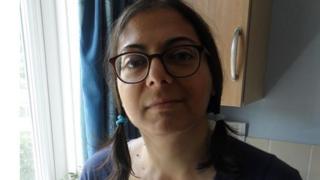 A man accused of beating his neighbour to death with a hammer told a friend he had murdered her and asked for help getting rid of the body, a court heard.
Farnaz Ali, 49, was found dead on the bathroom floor of neighbour Danny Williams' flat in Godric Place, Norwich, last year.
Mr Williams, 27, has pleaded not guilty to the murder of Ms Ali.
Thomas Smalley told Norwich Crown Court Mr Williams turned up at his Lowestoft flat and said: "I've murdered someone."
The defendant - who suffers from epilepsy and learning difficulties - had been drinking and was "in a mess" when he arrived at Mr Smalley's flat, 30 miles away, on 28 July 2017, the court heard.
Ms Ali had been reported missing that night by her partner after she failed to return from her regular evening walk.
Mr Smalley said he had first dismissed Mr Williams' claim as "another little lie".
However, he called police the next day, concerned about Mr Williams' behaviour during an overnight stay.
"The first thing he asked me is 'Can you help me get rid of the body and burn my flat'... before he even said hello, morning, anything," Mr Smalley told the court.
After calling police, Mr Smalley returned to his flat with a mutual friend to find Mr Williams outside on the phone to officers, the jury heard.
Mr Smalley told police Mr Williams covered the phone and said: "I smashed her head in 10 times with the hammer."
The court heard Suffolk Police was called on 29 July 2017 by Mr Smalley, minutes after Norfolk Police received a 999 call from Mr Williams' father David Killingback.
Mr Killingback told the trial he dialled police from outside his son's flat after being called by Mr Williams' mother and talking on the phone to his "upset" son, who told him there had been a "problem with someone at the flat".
In the call played to the court, Mr Killingback told police there could be an "injured person in the flat... and she might have even died".
An officer found Ms Ali's body - partly covered in a bed sheet - after breaking in.
The court heard Mr Williams struggled with understanding things and living independently, but was in regular contact with both parents and under the care of a GP.
In the days before the killing, he had suffered a seizure and attended hospital.
The trial continues.