Man fined for untethered hungry piglet in Norwich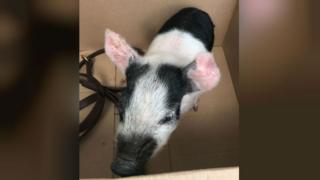 A man "with no skills in animal husbandry" who was found with a piglet in a city centre has been fined.
Police found Thomas Murphy-Hankin, 26, with the untethered British saddleback in Prince of Wales Road, Norwich.
"Delilah" strayed into the street and was sunburnt and hungry, Norwich magistrates heard.
Murphy-Hankin, of no fixed address, admitted allowing an animal to stray on a highway on 8 August and not ensuring its welfare, and was fined £300.
He was also banned from keeping pigs for two years.
Malcolm Plummer, for Murphy-Hankin, said: "He said he was given the pig by some travellers. He felt sorry for it, so was looking after it.
"I'm sure it was cute. He has no skills or knowledge in animal husbandry."
Police spoke to Murphy-Hankin at about 10:25 BST after reports that he had been shouting abuse at passers-by.
The piglet - which had been sitting between his legs on the pavement - "wandered around" during the arrest for threatening behaviour, the court heard.
A lead was found and it was tethered to a fence.
Vet Elliott Simpson later examined the animal and said it was at most a week old due to its size.
It was badly sunburnt and very hungry and its lack of suitable environment had "caused a degree of pain and suffering".
Mr Plummer added: "He was not cruel to the pig - he just had no idea how to look after it."
To sniggers in the court, Mr Plummer said pepper spray had been used during the arrest "so it wasn't so much Peppa Pig as peppered pig".
There were no welfare concerns for two dogs found with Mr Murphy-Hankin, the court heard.
The prosecution offered no evidence to a charge of having a dog dangerously out of control after one allegedly bit an arresting officer.
Mr Murphy-Hankin - who was described in court as a "nuisance" - had also admitted threatening behaviour but was not given a separate sentence.