King's Lynn baby death: family support 'not good enough'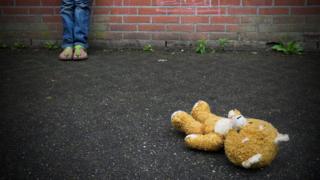 Welfare teams did not consider the impact of caring for a premature baby in the weeks before she died at the hands of her father, a report said.
A serious case review was ordered after the death of the six-month-old girl in King's Lynn, Norfolk, in March 2016.
Norfolk's Safeguarding Children Board (NSCB) concluded that agencies had not fully supported the child's vulnerable mother and older sibling at the time.
Chair David Ashcroft, said the multi-agency response was "not good enough".
Read more Norfolk stories here
The baby died on 2 March 2016, of serious head injuries "consistent with a shaking action", the report revealed. Her father was convicted of manslaughter and jailed.
Serious case reviews are called when a child dies or is seriously harmed where abuse or neglect are known or suspected.
The report reveals the baby - known as Child V - was born at 26 weeks' gestation into an Eastern European family with a history of domestic abuse and violence involving alcohol.
An 18-month-old sibling had witnessed an assault on the mother in April 2013, and a suicide attempt by their father in January 2014 had been put down to alcohol abuse rather than a mental breakdown.
The review said both adults had exhibited "increasing levels of parental anxiety" in the days after Child V was discharged from neonatal intensive care.
The report recommends improvements to the way agencies engage with vulnerable families.
Multi-agency response
NSCB chairman, David Ashcroft, said cases like this "remain incredibly rare".
"Staff across agencies in Norfolk work tremendously hard to keep the county's children safe, protecting hundreds of children every day," he said.
"However, when things do go wrong it is important that we learn and reflect on them."
The case is one of three to be reviewed by Norfolk's safeguarding team, with the recommendations published on Wednesday.
"It is clear that the multi-agency response in all three of these cases was not good enough and I apologise on behalf of all of the services that worked with these children and young people," said Mr Ashcroft.
"We are confident that services to children in the county have improved in the last two years and are continuing to improve. The learning from these three reviews is already being shared and we have acted on the recommendations."