'Bouncing off wall' over Bronze Age hoard found in Norfolk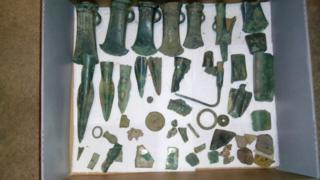 A detectorist who found a Bronze Age hoard said it was "simply amazing to find something no one has touched for thousands of years".
An inquest heard David Lovett, 64, from Smallburgh, Norfolk, discovered the collection of axe heads, chisels, knives and spears in March 2016.
A gold lock (hair) ring was also found in the field at Barton Turf.
The coroner said the high content of precious metals in the items designated them as treasure.
Mr Lovett has been detecting for 10 years and said of the find: "I don't think you can describe it. I felt both elation and disbelief at the same time.
"My wife said I was bouncing off the wall for three days."
Bronze is made from tin and copper and was an extremely valuable commodity, especially in areas such as East Anglia where there are no local copper or tin deposits, according to Julie Shoemark of the Portable Antiquities Scheme.
Ms Shoemark said the items could have been "caches of scrap material intended for recovery and reuse by transient metalworkers".
"Alternatively, other scholars have characterised hoards which show evidence of acts of deliberate destruction as a form of ritual "killing", in which the object is taken out of use and offered as a sacrifice to a deity or spirit," she added.
According to Ms Shoemark, lock rings are normally found in pairs leading to theories of their use as ear rings or for hair decoration.
"What is generally agreed is that they denoted wealth and high-status within late Bronze Age society,"
A valuation of the objects, which could be about 3,000 years old, will be carried out for purchase by the British Museum.
Any sale proceeds will be shared equally between Mr Lovett and the landowner.