Sailor stranded at Great Yarmouth for 18 months can return to India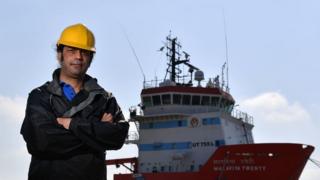 A sailor stranded aboard a ship moored in Norfolk for 18 months over a legal stalemate can finally return home.
Captain Nikesh Rastogi, 43, was stuck in Great Yarmouth aboard the Malaviya Twenty, after its owners went into liquidation in January.
Capt Rastogi who joined the ship in February 2017 said he and his remaining three crew members had received no wages since last year.
Crew lawyers secured a High Court order to arrest the ship and sell it.
The court will now arrange its sale and use the money raised to pay those owed.
Capt Radtogi said they had stayed on board fearing they would not get paid if they left the ship as it would be "considered a derelict which means anybody can take it over".
All of his original crew returned to India and he was aboard with three crew members who joined him in September.
The International Transport Workers' Federation (ITF) said 33 crew members had been on and off the vessel since October 2015 and had not been paid.
The ship arrived in Great Yarmouth in June 2016 as the row over wages escalated.
Capt Rastogi, from Mumbai, said he hopes to take a flight home with his crew within weeks.
"It is like a weight being lifted because there was a point of no hope," he said. "There was a period where things were really bad mentally."
Paul Haworth, a director at the law firm Birketts which represented the crew, said a surveyor instructed by the court will value the ship and the sale process should conclude in September.
Paul Keenan, inspector with the International Transport Workers' Federation, said the ship could sell for £700,000 to £800,000.
Mr Haworth said this should be enough to pay those involved, including the Admiralty Marshal's costs, port dues, the crew's unpaid wages and lawyers.
The crew spent much of their time doing routine maintenance and performing drills and kept in touch with family at home on WhatsApp.