Reynolds Coaches of Norfolk auctions fleet and stock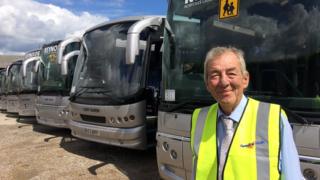 Norfolk's longest-established coach firm is selling off everything it owns, from tools to £200,000 coaches.
Reynolds Coaches was founded in 1910 but closed last month after owner Charles Reynolds fell ill and could not find any family members to take it on.
The company was set up by his grandfather, a builder and haulier, who started off with horses and carts.
The auction will take place at the firm's yard in Caister-on-Sea from 10:00 BST on Saturday.
Mr Reynolds, 62, decided to sell up after being diagnosed with lung cancer last year.
He was just six years old when he first got involved with the family business, helping to man the petrol pumps.
Mr Reynolds said that seeing the workshop laid out with all the equipment ready for the auctioneers was "totally surreal".
He said: "I never knew I had so many parts and tools. It's just incredible.
"I found a Model T spark spanner that belonged to my grandfather and a couple of of other Ford Model T parts which must go back to the days of the old charabancs.
"It's something you can't throw away."
'Awful lot of regrets'
About 20 coaches are for sale.
When asked how he would feel when the hammer falls on the final item, he said: "I think there will be an awful lot of regrets when I see them go, and the following week.
"It's going to be hard, when you've done something for that long.
"I want to go out as I operated - in good style.
"Some might call it crazy, but the vehicles become part of your life. I just hope they go to good homes."