River Thet polluted by sewage and road surface water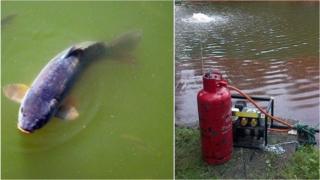 Polluted surface water from roads and sewage released by a burst water main washed into a Norfolk river at the weekend killing hundreds of fish.
Water from the pipe in Raymond Street in Thetford allowed sewage to flow into the River Thet.
Hundreds of dead fish were seen floating in the water.
Environment Agency teams cleared the bodies while pumping in hydrogen peroxide and aerating the water to boost oxygen to safe levels for fish
Thunderstorms also caused river oxygen levels to fall in rivers across the region to below the critical level of about 10%, again killing a number of fish.
"Our teams have been deploying aeration equipment and using hydrogen peroxide in affected stretches to boost oxygen levels," an Environment Agency spokesman said. .
Hot weather can lead to reduced oxygen levels in rivers and stillwater fisheries.
"When we experience a heavy storm after a long dry period, debris that has accumulated in the drainage systems is flushed into the rivers," the spokesman said.
"Algae and micro-organisms in the rivers rapidly multiply also causing a significant drop in oxygen levels."
In Norfolk, the agency had reports of fish in distress on the River Tud at Costessey, the River Yare near the UEA in Norwich and the River Thet in Thetford.
Oxygen levels in the Old Nene River in March town centre, Cambridgeshire, fell to 4%.