Dad's Army's 50 years of popularity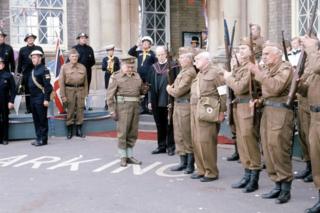 The director of many of the earliest episodes of Dad's Army, which is 50 years old, has said he doubts many of today's shows will last as long.
Harold Snoad, 82, was brought in to direct episodes of the sitcom, which was first broadcast on 31 July 1968.
The show, which ran for nine series and had audiences of more than 18 million at its peak, was filmed in and around Thetford in Norfolk.
Mr Snoad said it was "fantastic" how well the show had lasted.
Repeats of Dad's Army are still a fixture on BBC2.
The director, who later produced other BBC comedies including Ever Decreasing Circles and Keeping Up Appearances, said he had "great fun" working with a cast "that all got on".
'Onto something'
Mr Snoad was brought in to direct the episodes by David Croft, who co-wrote the series with its creator Jimmy Perry.
"We all knew fairly early on we were onto something really good," he said.
Mr Snoad brought the programme to Norfolk because he wanted an army training area the team could have control over for the filming.
"We were based in Thetford. The outside was very useful countryside and not too hilly," he said.
"We went to the army training area [Stanford Battle Area] and I went to the commanding officer and he said 'yes' and it met all the requirements."
He said he was "not sure" if there were any sitcoms today that will continue to be popular in 50 years' time.
"Times have changed like mad," he said.
"Nowadays comedies are not so much family-viewing. With Dad's Army you could sit down as a family.
"Not that many shows have lasted that long and are appealing to audiences today, deservedly because the show was so well-written."
Tony Pritchard, one of the founders of the Dad's Army Appreciation Society, said: "It is still being repeated and new generations are discovering it all the time.
"It's timeless. We have members aged from four to 80 years and we have members all over the world, we even have two in Germany."
Heather Kelly, a 20-year-old Dad's Army fan from Norwich, whose play When We Were Reliant On The State is at the city's The Garage venue in September, said: "Every character is just brilliant in their own way and the setting is so specific, but recognisable."