Creditors support Mattressman's survival in East Anglia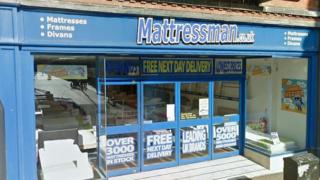 A bed retailer has persuaded its creditors to accept a financial deal which would see it survive and keep 11 of 24 stores open.
Last month Mattressman said a £1.1m profit in 2017 had turned to a loss of £2.6m in the financial year which ended in March.
The Norwich-based firm said creditors had accepted its five-year plan but that 70 jobs would have to go in the restructuring.
It said its future was now "secure".
"We are going back to basics and will rebuild from East Anglia where we started," director Andrew Kerry said.
"East Anglia has always supported Mattressman well over the 14 years and with this restructuring, I am confident of a great future for the company," he added.
Previously Mr Kerry said the market had been "dying" since December with "consumer spending on furniture crashing down".
He also blamed the snowy weather for keeping customers away from shops.
'Fairly prudent'
Stores in Rotherham, Manchester, Birmingham, York, Coventry, Lincoln, Ipswich, Corby, Chingford, Isle of Wight, Thanet, Milton Keynes and Nottingham closed at the end of June.
Two more, Wakefield and Swindon, never managed to open.
Those continuing to trade are Norwich, Dereham, North Walsham, Lowestoft, Thetford, Chelmsford, Colchester, Stevenage, Northampton, March and Peterborough.
About 100 jobs had been lost as a result of the store closures with the company saying 30 people had left "naturally" following the closure announcement.
Mr Kerry said new supplier agreements had also put in place with all the major brands.
"We are going to have to be fairly prudent but both the creditors and ourselves are confident going forward," he added.
The company was set up in 2004.