Funeral for Cliff Jordan, former Norfolk County Council leader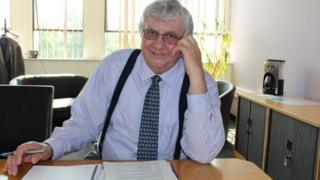 Several hundred mourners from the world of local politics and business have said farewell to former Norfolk County Council leader Cliff Jordan, who died last month.
Mr Jordan, who was a self-proclaimed "plain-talking Norfolk boy", stepped down as leader in May after his diagnosis of lung cancer.
He died on 9 June, aged 73.
His funeral was held at Dereham and was taken by the Bishop of Norwich, the Right Reverend Graham James.
Conservative councillor Mr Jordan was described after his death as a man of "true grit" with a "larger-than-life frame and personality".
He hit the headlines earlier this year after saying he was "hacked off" with the county's mostly Tory MPs for "talking the county down".
The Bishop of Norwich told the congregation of MPs, councillors and business leaders: "We all know that politics and life in Norfolk will be a lot less colourful without him."
His deputy on the council Alison Thomas described Mr Jordan as "a passionate Norfolk man who was warm, kind and most of all honest".
"He truly believed that if he gave people the truth they would respect a policy even if they didn't like it," she said.
His son Spencer said his father "felt immense achievement" for his work as a councillor.
"He was immensely proud that he had made a difference to many people's lives," he said.