Norwich shooting: Two people aged 17 and 26 arrested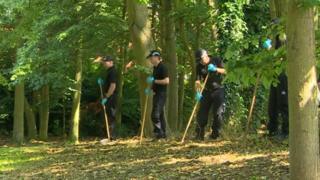 Two people, aged 17 and 26, have been arrested over the shooting of a 19-year-old man in Norwich.
The victim, from London, was treated for a gunshot wound to the back at the Norfolk and Norwich University Hospital. He is now in a stable condition.
The attack happened in the early hours of Wednesday. Police found the wounded teenager in Adelaide Street.
The shooting is believed to have happened in a nearby park, police said.
Norfolk's Chief Constable Simon Bailey visited the scene earlier and said detectives were looking in to possible links with London drug gangs.
Mr Bailey also called on local councillors and social services to play a role in curbing anti-social behaviour and criminal activities among young people in the area.