Norwich Prison criticised by Independent Monitoring Board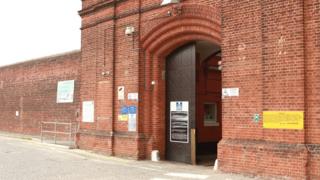 The safety of officers and inmates at a prison is a "constant concern" due to staff shortages and inexperience, a watchdog has found.
An Independent Monitoring Board (IMB) report said Norwich Prison also provided "substandard accommodation" with "mould on the walls".
The report said it was "disappointed" with the lack of investment in refurbishing the prison.
HM Prison Service said it has taken steps to increase staff numbers.
According to the IMB report, the cells were "damping-smelling" with "mould on the walls and bubbled paintwork".
It also said "prisoner-on-prisoner violence is widespread with a lack of respect for staff, property and each other", while "prisoners are not always treated humanely".
Pay increase
The Prison Service said it has recruited 60 officers for HMP Norwich.
It said it was also "important to retain experienced staff members" and last year it increased prison officer pay by an average of 1.7%.