National Express investigates claims a coach driver fell asleep at the wheel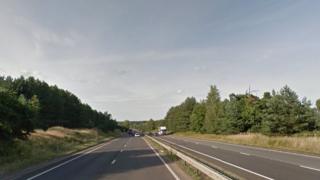 Coach company National Express has launched an investigation into claims one of its drivers fell asleep at the wheel, narrowly missing a car.
The alleged incident was said to have happened on the A11 south of Thetford in Norfolk early on Sunday morning.
Martin Frost, from Rackheath, near Norwich, said he saw the driver's head nodding down, called out in alarm and the driver swerved away just in time.
The firm said it had offered compensation to affected passengers.
Mr Frost, who was travelling from London to Norwich, said: "I yelled at the driver when I spotted the danger and he swerved away literally just before he hit the car."
He said the coach was a "couple of seconds" away from crashing into a vehicle in another lane.
'Under investigation'
Mr Frost said he got off the coach at Thetford and got a taxi back to Norwich. He said he later complained to National Express.
The coach company confirmed it had received a customer complaint regarding an incident on the 23:30 BST service from London to Norwich.
It said the incident was still under investigation.
A spokesman said: "We have contacted the passengers affected and offered compensation for any inconvenience and will also reimburse any expenses incurred as a result of the incident.
"The safety of our customers, staff and other road users is National Express' number one priority and we have strict policy and procedures in place in accordance with relevant legislation."