Bust of Queen Victoria saved by Cambridge museum for nation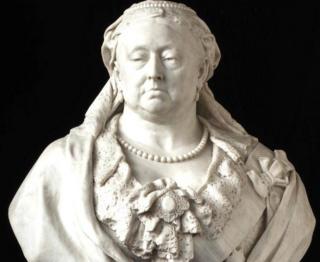 A marble bust of Queen Victoria has been saved for the nation after a UK museum matched an offer from America of more than £1m to buy it.
An undisclosed museum in New York had bought the masterpiece by Sir Alfred Gilbert at auction, but the government intervened to prevent it from leaving, deeming it of national importance.
An export licence deferment gave Cambridge's Fitzwilliam Museum the time to raise £1,077,607 to buy it.
It will go on display from tomorrow.
The bust was commissioned in 1887 by a private members club in London to celebrate Queen Victoria's Golden Jubilee.
It remained in its ownership until it was bought by the American museum and then by the Fitzwilliam.
Michael Ellis, minister for arts, heritage and tourism, said: "This exceptional depiction of Queen Victoria belongs in the UK and I am thrilled that it has been saved for the nation.
"Our export bar system exists to keep nationally important works of art in this country."
Sir Alfred Gilbert is described as the most significant sculptor of the Victorian era, and his best-known work is 'Eros', the dynamically posed figure that crowns the Shaftesbury Memorial at Piccadilly Circus.
The Fitzwilliam Museum funded the purchase of the bust through a recent bequest, a series of gifts from individual benefactors and a grant of £267,607 from the National Heritage Memorial Fund (NHMF).
Sir Peter Luff, chairman of NHMF, said: "Its loss from these shores was unthinkable."
The bust's installation on Wednesday will coincide with the 181st anniversary of Queen Victoria's accession.