Norfolk and Norwich Hospital placed in special measures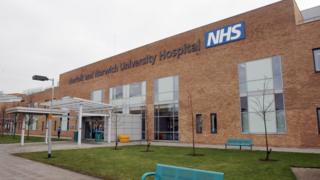 A teaching hospital in Norfolk has been rated "inadequate" by inspectors because of a "bullying culture", a report has said.
The Norfolk and Norwich University Hospital has now been placed in special measures by the Care Quality Commission (CQC).
Inspectors identified a "deterioration in how the trust was being run" but said staff were "clearly committed".
Hospital chief executive Mark Davies said: "We need to do better".
The rating comes just months after the most recent report, published in August, said it "requires improvement", after failing to hit targets in A&E, cancer care and planned operations.
In January, the hospital was issued with a warning from the CQC to improve its quality of care.
Inspectors made a series of visits between October and March, looking at several departments including emergency care, surgery and outpatients.
Ted Baker, the Chief Inspector of Hospitals, said the low rating was "extremely disappointing".
"Although staff at the trust were clearly caring and committed to helping patients, we were very concerned by how the trust is being led and with many of its systems and processes," he said.
"We received a significant number of reports through whistle blowing following our initial inspection and this showed that a bullying culture remained at the trust."
Read more Norfolk stories here
The report calls for hospital leaders to take "definitive steps to improve the culture, openness and transparency throughout the organisation".
Mr Davies said 180 ambulances a day attended A&E at the Norfolk and Norwich over the winter period, and that the hospital "just isn't big enough to cope with the demand that is coming through our doors".
He said: "The sign of an open, approachable and mature organisation is to take these criticisms on the chin and listen to what everyone has to say, then create a plan and get on with it."