Norwich National Centre for Writing opens after revamp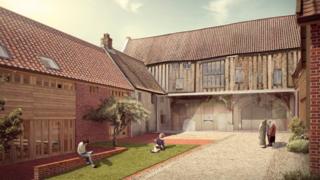 A £2m "irreplaceable resource for writers" - backed by some of the literary world's leading names - is opening in Norwich on Monday.
The creation of the National Centre for Writing, where writers can meet to share ideas, follows redevelopment of the city's medieval Dragon Hall.
A writers-in-residence cottage and education room are part of the centre.
The Handmaid's Tale author Margaret Atwood and Nobel Prize winner JM Coetzee are both patrons of the centre.
Ms Atwood said: "It will be Hermes presiding over Dragon Hall. The opener of doors, the God of travel and exchanges of all kinds."
The concept for the new National Centre for Writing was developed by the group behind Norwich's successful bid to become a Unesco city of literature in 2012.
The centre, based in the 15th Century building on the city's King Street, wants to involve 20,000 young people in its opening year.
Much of the funding - £900,000 - has come from Arts Council England, while the rest has come from various other trusts and foundations.
Sarah Perry, author of The Essex Serpent and a patron of the centre said it was, "both domestically and internationally an irreplaceable resource for writers and readers."