Stephen Muncaster inquest: Husband killed his wife then himself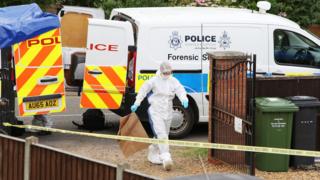 A man found dead in his front garden shot his wife in the head then turned the gun on himself, an inquest heard.
Stephen Muncaster, 47, killed his wife Allison, 48, as she tried to escape their home in Magdalen near King's Lynn, Norfolk, on 12 July 2016.
His body was found next to a shotgun, hours after he told his GP his marriage was breaking down and he was depressed.
He was the uncle of "Lotto lout" Michael Carroll, who hit the headlines in 2002 and later blew his fortune.
An earlier hearing concluded Mrs Muncaster was unlawfully killed, and the Norwich coroner ruled that Mr Muncaster's death was suicide.
'Head in his hands'
His GP Chris Holmes said in a written statement: "He came to see me complaining he was feeling depressed.
"His wife had told him she was leaving him and he suspected she was seeing someone else."
But Dr Holmes added he was confident he had no intention of harming himself or others because he loved his grandchildren.
The shooting of Mrs Muncaster was captured on CCTV cameras within the house.
Det Con Jeremy Pitt from Norfolk Police said the footage showed Mr Muncaster looking "very upset with his head in his hands".
There had been no previous domestic incidents reported to police and Mr Muncaster was a licensed shotgun owner.
A post-mortem examination concluded he died of a single shotgun wound to the head.
The builder had appeared on national TV alongside his nephew, Michael Carroll, when the 19-year-old won £9.7m on the National Lottery in 2002.
The former binman became known as the "Lotto lout" when he collected his winnings wearing an electronic tag.
He went on to spend his entire fortune before taking a job in a biscuit factory.