Cliff Jordan, former Norfolk County Council leader, dies aged 73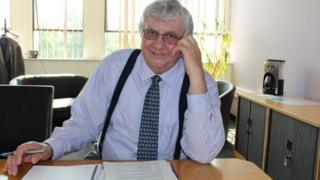 The death has been announced of Cliff Jordan, who stepped down as leader of Norfolk County Council last month.
Conservative councillor Mr Jordan, 73, who died overnight, had lung cancer.
Alison Thomas, who served as his deputy, said: "Behind the larger-than-life frame and personality was a man of true grit."
In March Mr Jordan hit the headlines after saying he was "hacked off" with the county's mostly Tory MPs for "talking the county down".
Norfolk County Council leader Andrew Proctor paid tribute to his predecessor.
"As a Norfolk man, he had an even bigger passion for Norfolk, his home county. You don't come across too many people like Cliff in your life.
"He spoke his mind and, whilst everyone didn't always agree with him, he was respected," Mr Proctor added.
Analysis by Andrew Sinclair, BBC Look East political correspondent
Cliff Jordan was, by his own admission, a plain-talking Norfolk boy, never afraid to speak his mind, something which often led to very public spats with colleagues and opponents.
A local businessman, be became a Breckland councillor in 1991, a county councillor 10 years later and county council leader from 2016.
As Conservative group leader he brought much-needed discipline to the local party.
The Great Yarmouth MP and party chairman Brandon Lewis said on Saturday night that he was "a man who cared passionately about Norfolk".
The Mid Norfolk MP George Freeman described him as "a Norfolk man to his bones".
Politics in Norfolk will probably now be a little less colourful and passionate.
A statement from Labour group deputy leader Emma Corlett said: "Our condolences to Cliff's family for their sad loss.
"Cliff was a true Norfolk character on the political landscape and will be missed."
He leaves a wife, grown-up sons and grandchildren.