Great Yarmouth church rededicated after 'satanist' attack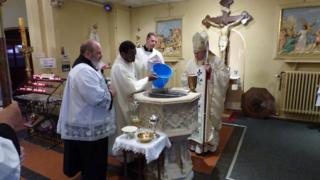 An altar has been rededicated after it was desecrated in a satanic ritual.
A satanic image was left at the altar of St Mary's Catholic church in Great Yarmouth, Norfolk, in March.
CCTV footage also showed a man lighting fires before trying to burn a sacred icon from the altar and replacing it with a picture of a satanic figure.
A 17-year-old was arrested on suspicion of criminal damage and hate crime but later released. No charges have yet been brought.
The rededication mass was carried out by the Bishop of East Anglia, the Right Reverend Alan Hopes, on Sunday.
He also asked for prayers for the person behind the desecration.
Police said the case was with the Criminal Prosecution Service.