RSPB Snettisham: Hide hit by 2013 storm surge to be rebuilt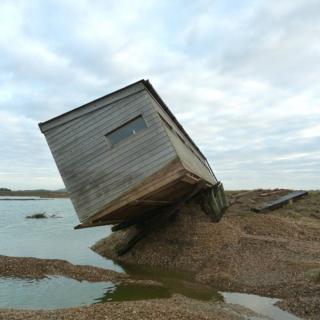 A bird watching hide damaged in a storm in 2013 is to be replaced, courtesy of a £140,000 fundraising campaign.
The hide at the RSPB Snettisham nature reserve was damaged by the biggest tidal surge to hit the Norfolk and Suffolk coasts for 60 years.
The money for the new hide has been raised through grants and individual donations.
The RSPB hopes work could start in September, with the new hide open next year.
The project has received a £73,500 grant from the Wren FCC Community Action Fund, a not-for-profit organisation which is supported by the landfill tax, and a fundraising campaign raised more than £14,000 last year.
RSPB project manager Hayley Roan welcomed all the support to help fund the hide.
"We can now achieve the vision of creating a hide that will withstand the pressures of climate change and also encourage future generations to love and understand the very special wildlife and habitats of The Wash," she said.
RSPB Snettisham lies on the edge of the expansive tidal mudflats of The Wash, and is important for wading birds and wildfowl.