Cromer police officer finishes triple Iron Distance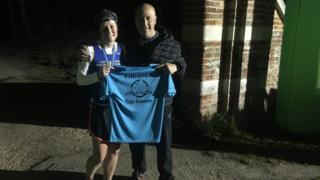 The first British woman to finish a triple Iron Distance with a lake swim "borderline hallucinated" when running after cycling hundreds of miles.
Maria Greaves, 37, a police officer in Cromer, finished the UK race - a 7.2-mile swim, 336-mile cycle ride and 78-mile run - in 59 hrs 10 mins.
The mother-of-two only slept for 90 minutes throughout, but she said she "overslept" by half an hour.
"I know it's not normal, but it's my kind of normal," she said.
PC Greaves said she began her extreme passion "after having children and putting on a bit of weight I went for a run and a monster was born".
After completing shorter triathlons she moved up to Ironmans and double Ironmans before becoming one of nine people - seven men and two women - to start the race last week at Avon Tyrrell in the New Forest, Hampshire.
She said she found the bike section of the race - 29 hours in total - the toughest.
"About six hours in I thought 'oh my god I've got a whole day on the bike left'. It's the lowest point I've ever had in any event," she said.
"When it got to the end of the bike I wanted to chuck it in the bin and never ride it again. But, no messing about, I was on the run within half an hour. You don't want to seize up."
During the run she said the hallucinations meant the "grass was sparkly and [I was seeing] shapes and shadows that aren't there".
She said: "I enjoyed the first two marathons, but the third was pretty grim in places."
PC Greaves added that after she finished at 23:00 BST on Sunday she struggled to sleep because her body was "complaining so much".