Norwich home owners leave as Taylor Wimpey fix faults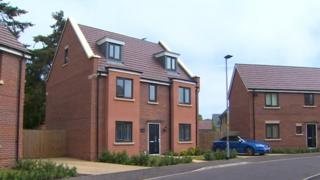 Two families will have to move out of their new-build homes for a second time because houses in their development have been plagued with problems.
Neighbours Justin Revell and Lyn Whiteman said their five-bedroom homes in Peter Pulling Drive in Queen's Hills, Norwich, need further repairs.
Last year, nine families moved out of houses in the road while builders Taylor Wimpey fixed problems.
The company said it was "working hard to fix any outstanding issues".
Justin Revell, 41, said 300 faults were thrown up in an independent report, after he moved into his £330,000 "dream" home in September 2016.
"We moved out in September 2017 with micro-cracking problems that involved replacing every ceiling in every room," Mr Revell said.
"We had to have all our fire doors removed, bathrooms had to be fixed because they were damaged and we had massive problems with insulation."
However, he said the issues with the insulation were not fixed and he will now have to move out again in November.
The IT worker said he and Ms Whiteman had sent hundreds of emails to Taylor Wimpey.
Ms Whiteman, 46, said issues started a week after she moved in.
"There's no cavity wall insulation, there's no insulation upstairs, the staircase is questionable whether it meets regulations," she said.
She also moved out last year and will have to do so again.
A Taylor Wimpey spokesman said the company would "like to sincerely apologise" to residents.
He added: "We have acted to put things right and are working hard to fix any outstanding issues.
"We are disappointed to have not met the high standards we set ourselves on this occasion and are committed to resolving these issues."
The company said it would be paying for the two customers' alternative accommodation and other "reasonable costs".