UKIP politicians argue over alleged 'stripper' insult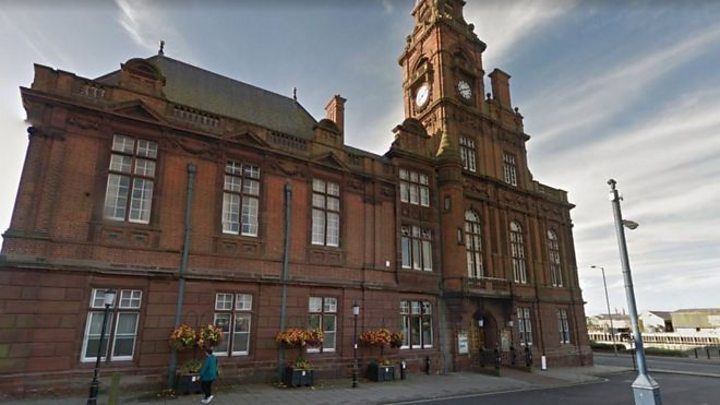 The UKIP home affairs spokesman has been recorded calling a party branch "a disgrace" in a row with its last remaining councillor in a town.
David Moreland and Chris Walch swore at each other and pointed fingers in the ill-tempered exchange, recorded in Great Yarmouth during a BBC interview.
The argument erupted after Mr Walch accused Mr Moreland of calling his wife a stripper on a previous occasion.
UKIP has been approached for a statement.
The row broke out as BBC Radio Norfolk reporter Andrew Turner was asking Mr Walch about UKIP's collapse in support the town during the 4 May elections.
'Upset my missus'
The councillor broke off the interview when Mr Moreland walked into his shop, introducing himself as the party's home affairs spokesman.
Mr Walch can be heard telling Mr Moreland: "I don't want to be associated with you... you upset my missus."
Mr Moreland told Mr Walch the party's Great Yarmouth branch was "a disgrace".
They were later interviewed about the argument.
Mr Moreland denied threatening Mr Walch, saying: "He had a go at me and I had a go at him.
"I'm ex-military. I'm not going to put up with him having a go, so this is not political, it's personal - simple as."
Mr Moreland blamed UKIP's collapse in the town on party "infighting". In October seven of its 12 borough councillors defected to the Tories, handing the Conservatives control of the authority.
Mr Walch was the sole UKIP councillor left after last week's local election.
He said as an "ex-doorman", he did not take the finger-pointing seriously.
He said it was a problem for UKIP that "we don't have people who have the intelligence to actually have a debate or discussion or understand what the other person is saying".
Former party leader Nigel Farage said: "These things happen in politics; they happen in life.
"Disagreements are nothing new, but that's not what UKIP has to worry about.
"It needs to get back in place a professional command and management structure to get ready for political opportunities that may arise."