Family of 'cheeky' 104-year-old who died in care home traced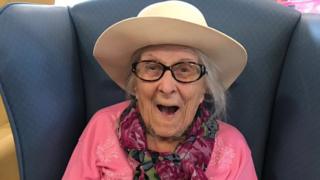 A relative of a "cheeky" 104-year-old woman who died last month has been found after an appeal by the care home where she spent her final years.
Daisy Staines, who had dementia, lived at the Ashlyn Care Centre in Harlow, Essex, for eight years before she died after a stroke on 25 April.
Staff had tried to track down her remaining family and friends before her funeral which is being held next week.
Her great niece, who it is believed lives in Swansea, has been traced.
The granddaughter of Ms Staines' best friend as a child, Ada, who has since died, has also since contacted the home, which has been "overwhelmed with the response".
Mrs Staines grew up in Tottenham, London, and married her husband Fred in 1939. The pair were together until his death in 1980 and her three brothers are also dead.
She developed dementia later in life and had been at the care home for about eight years.
"When she first arrived her she could walk and I've seen pictures of her dancing," said activity co-ordinator Alison Armstrong.
"She was very funny, very cheeky, and liked poking her tongue out at carers. If we could have had a cat it would have been on her lap all day long."
She said that as Mrs Staines had been there for so long they wanted to do something for her, but it has "snowballed" since the initial appeal in the local paper.
Ms Armstrong added Mrs Staines' face would "light up" when a dog therapy group came to the home.
They will also be in attendance at the funeral on 18 May at Parndon Wood Road crematorium in Harlow, but her great niece is unable to go.