King's Lynn Town needs to seal lease deal to secure future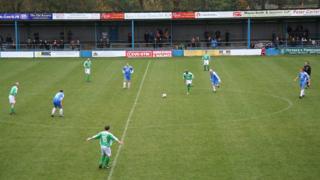 A football club owner says he needs to be given a longer lease on its home in order to make vital improvements.
King's Lynn Town's Stephen Cleeve warned the current 17-year council lease for The Walks was too short to make any investments worthwhile.
He said the pitch was plagued by bad drainage and caused rows between him and outgoing manager Ian Culverhouse.
King's Lynn and West Norfolk Borough Council said it was "very close to doing a deal".
Mr Cleeve said he "ideally" wanted a 125 to 150-year lease to enable him to invest more money into the club and bid for grants to replace the pitch.
Two miles of drainage will be installed during the summer break.
Investment 'crazy'
However, the club wants to put in a plastic pitch - which will cost between £480,000 and £1m - or a Premiership-style plastic and grass hybrid pitch.
"You can get a lot of that funded, but you've still got to put in £200,000-300,000," said Mr Cleeve.
"For me to invest significant sums... would be crazy.
"It's just a waste of money because you could be turfed out at the end of it."
An initial lease offered by the council in January was retracted, but it has since said it wanted to seal a deal as soon as possible.
Alistair Beales, cabinet member for corporate projects and assets, said Mr Cleeve's argument for an "unexpired lease of 125 years or more is recognised and... I think we will reach a satisfactory conclusion".
He added that conditions attached to the car park and access to the park at The Walks still had to be ironed out, but "both the council and the club have to make a deal for the longer term and the interests do align".