Norwich and Great Yarmouth smaller parties routed in poll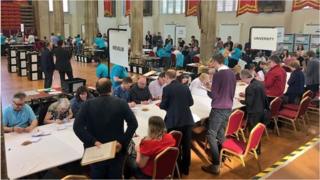 Minority parties UKIP, which had 10 seats in 2015, and the local Tribune party with two councillors, have both been wiped out in Great Yarmouth.
This has allowed the Conservatives to take overall control of the council.
In Norwich, Labour strengthened its grip on power by defeating the Greens, who lost five of their 10 seats.
The Greens were braced for heavy losses and former leader Lesley Grahame lost her seat in Thorpe Hamlet which she had held for the past eight years.
She said it was a case of David and Goliath between Labour and her party.
Labour now has 31 seats, the Greens five and Lib Dems three, holding on to one ward this time.
Analysis by BBC East political correspondent Andrew Sinclair
For the main political parties there's something for everyone in these election results.
The Conservatives can't believe their luck at how well they've done. As a mid-term government battling austerity, struggling with Brexit and trying to sort out the Windrush controversy, it was braced for losses across the East. It has held on to nearly all its seats and gained control of new councils.
Labour will be pleased with its gains, particularly in Norwich, but it had been hoping to do better. Some members are already asking if Jeremy Corbyn is too polarising a figure.
The losers are the Greens and UKIP. Politics is returning to its traditional form and the smaller parties are being squeezed out.
In Great Yarmouth, the Conservatives swept to overall control with the help of former UKIP councillors who had defected to them.
The main party leaders both held their seats as Conservative numbers on the council increased from 21 to 23 and Labour's from 11 to 15.
Conservative Graham Plant increased his majority in Bradwell North ward, boosting his vote from 749 to 1076.
Labour's Trevor Wainwright saw a fall in his vote in the Magdalen ward, from 844 to 749, but still held the seat.
Former UKIP leader Kay Gray, who moved to the Conservatives in October 2017, held Gorleston and fellow defector Carl Annison held Bradwell South and Hopton.
UKIP lost Caister South to Conservative defector Malcolm Bird, who was the party's first and only mayor of the borough.
Lothingland, held by Tribune leader Adrian Myers, was lost to Conservative David Drewitt.