Norfolk brothers Alan and Russell Taylor jailed over £17m fraud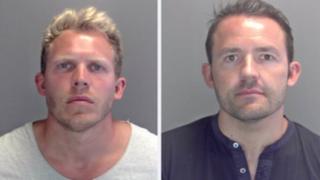 Two brothers who scammed more than 200 people out of almost £17m have been jailed.
Alan Taylor, 38, of St Stephen's Road, Norwich, and Russell Taylor, 37, of Trunch Road, Mundesley, Norfolk, used the money to fund "lavish" lifestyles.
They spent £150,000 on hiring a jet and also bought a £1m house, an Aston Martin car, a boat and watches.
The pair were jailed on Thursday at King's Lynn Crown Court after admitting fraud at a hearing in March.
Alan Taylor was sentenced to six years, while his sibling was given five years.
They persuaded clients to invest with their firm, gaining access to their funds, which were then invested in high-risk schemes, police said.
The financial advisers pocketed any profit but passed on losses to their customers.
Police seized Russell Taylor's £1m house, a £150,000 Aston Martin car, a £45,000 boat and Alan Taylor's £80,000 watch collection.
A Proceeds of Crime confiscation order will be made against the brothers at a later date, police have said.
A police investigation, launched after clients raised concerns, found the two had stolen vast sums of money between 2008 and 2015.
Most victims lost about half the money they invested, said police.
Former businessman Derek Secker, 85, who lost "hundreds of thousands of pounds" said he was "sick" after discovering the brothers' fund had been devalued by 45% in 2015.
"It sent shockwaves because 45% of the fund I had was a heck of a lot of money," he said.
"It's affected my children who I intended to leave it to."
The brothers used their Hoveton-based company Taylor and Taylor Associates to persuade clients to invest, but then transferred the money to another company they owned, Vantage Investment Group Ltd, and placed it in a high-risk finance scheme.
Det Ch Insp Liz Fernandes, of the eastern region special operations unit, said: "This sentence can never make up for the heartache, anxiety, and trauma caused by the Taylors, but by stripping them of their liberty and lavish lifestyle, I hope we have brought some form of comfort and justice."
The Taylors have been disqualified from being company directors for 12 years.