Demolition of Hemsby cliff-top homes under way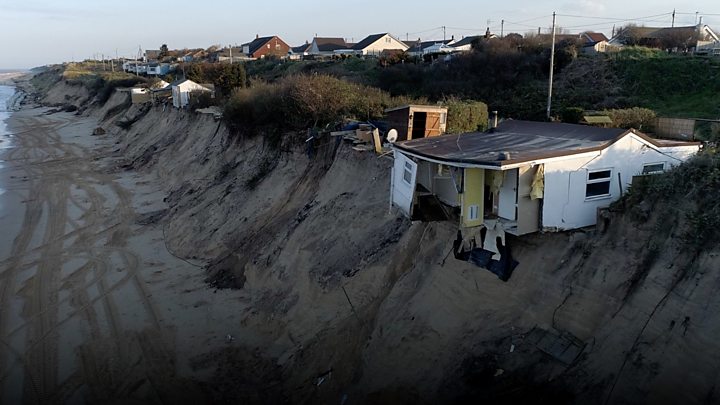 Demolition crews have begun removing cliff-top chalets on the verge of toppling into the sea after high tides caused further erosion.
Seven bungalows on The Marrams in Hemsby, Norfolk, were left uninhabitable when sandy cliffs they were built on washed away in March.
The cliff edge was eroded a further 16ft (5m) by high tides and heavy rain in a 24-hour period since Sunday.
There is now concern for 30 other homes immediately behind the seven chalets.
All that separates them from the cliff edge is a privately owned access road which has been closed for "public safety" by the local council.
John Weston, a spokesman for the Geoffrey Watling Trust Ltd said a new access road will be built inland of the existing concrete roadway.
The landowner would be consulting with the emergency services and local residents to make sure the proposed new road would still enable them all access to properties on the Marrams.
A construction firm had been appointed and the work would get under way in a couple of days time and take 10 to 14 days to complete, the spokesman said.
Since March more than 50ft (almost 16m) of the cliff face has been washed away by storms and high tides according to beach cafe owner James Bensly who says the erosion is "a massive worry".
The decision to knock down the seven chalets was made by Great Yarmouth Borough Council.
It said the "loss of cliff material since Sunday" meant the wooden chalets were now "dangerous" and will all go by Friday.
The council has been given funding by the Environment Agency to carry out a coastal management study looking at options for sea defences between Winterton-on-Sea and Great Yarmouth.
The aim of the study is to find the best options to help "protect the coastline" with coastal erosion at Hemsby being a priority, a spokesman said.
The report will be published in June.