'Fireball' plane death was 'misadventure', jury finds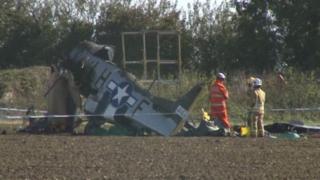 A man killed when the vintage aircraft he was flying in hit a tree and burst into a "massive fireball" died through misadventure, an inquest jury found.
John Marshall, 84, died instantly when the P-51 Mustang crashed near Hardwick Airfield in Norfolk.
Pilot Maurice Hammond, of Eye, Suffolk, suffered a broken neck and has no memory of the crash on 2 October 2016.
The jury at Norfolk Coroners' Court said the aircraft "appeared to be affected by a crosswind".
A statement issued on behalf of Mr Hammond thanked the coroner, the Air Accident Investigation Board and the emergency services and extended his thoughts and prayers to the Marshall family.
The court had previously heard that Mr Marshall, of Willoughby Waterleys, Leicestershire, had been bought the flight as a birthday gift by his three sons.
They watched on as their father was killed.
Eldest son Robert said the Mustang "bounced" as it attempted to land on the runway, then banked again and flew off course, inches from the ground.
Its left-hand wheels touched the soil in a ploughed field, then it climbed, but at an angle with the left wing dipped to the ground, he said.
The Mustang's left wing then hit a tree beyond the airfield and the plane burst into flames.
The jury was told the plane's systems and engine were working correctly and Mr Hammond had shown "good judgement" after the plane "bounced".
After their conclusion the jury said: "The aircraft appeared to be affected by a crosswind on approach to landing. It left the runway hitting a large tree, where an explosion occurred."