World of Sport Wrestling to return to British TV screens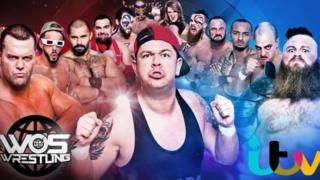 World of Sport Wrestling is to return to British television screens - 30 years after the Saturday staple ended.
The new 10-part series will air on ITV and recording will begin next month at Epic Studios in Norwich.
The original show made stars of wrestlers Big Daddy, Giant Haystacks and Mick McManus in the 1980s.
An ITV spokesman said the series would feature "the UK's biggest and best pro-wrestlers".
WOS Wrestling was scheduled to return to Saturday afternoons in 2017 but was halted over contractual issues.
Jeff Jarrett, co-founder of Impact Wrestling and a former star of WWE wrestling, told BBC Radio 4's World at One at the time that wrestling was "Shakespeare to the masses". He said the UK enjoys "an enormous independent wrestling scene".
'Indie scene'
In the new series, performers will take part in "various, intense bouts", with one wrestler taking home the WOS Wrestling Championship belt every week, ITV said.
Tom McLennan, creative director at ITV Studios Entertainment, said: "There is a massive indie wrestling scene in the UK and a strong nostalgia for the wrestling shows of our youth.
"WOS Wrestling will combine the best of the past with incredible talent available today to make a fun, exciting and thrilling show that the whole family can enjoy."
The first matches will be recorded before a live studio audience in Norwich on 10, 11 and 12 May, it was confirmed.
Dates for airing have yet to be scheduled.