Norwich Northern Distributor Road's final stretch opens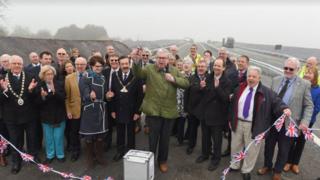 The final stretch of Norwich's £205m Northern Distributor Road - now called Broadland Northway - has opened.
The 3.3-mile section (5.25km) runs from the A1151 Wroxham Road to the A47 at the Postwick hub.
It is the last part of the 12-mile (19.5km) city bypass to open, but was delayed by a few weeks due to bad weather, the county council said.
An official opening ceremony was held last week, with Broadland MP Keith Simpson invited to cut the ribbon.
The dual carriageway starts at the A1067 Fakenham Road and connects the east and north of the city to the A47.
Norfolk County Council spokesman John Birchall said: "It is an investment in Norfolk for many years in the future.
"More companies will come in and and it will be a much more attractive place to come to.
"It is going to make such a difference to access for the north and east of Norwich and for large parts of the Broadland and north Norfolk, Wroxham and the Broads."
Lane closures
He added that busy roads across the city, like Yarmouth Road at Thorpe, were expected to become quieter as motorists switch to using Broadland Northway.
A signals engineer has been monitoring the flow of vehicles at the Postwick hub, with traffic lights to be adjusted over the next few weeks.
Lane closures have been pencilled-in for later this year for work to be completed on cycle tracks, bridleways, drainage and sound-proofing of a railway bridge.
The bypass has taken more than two years to build and has been opened in three sections over five months.
Bad weather has caused delays to tree planting along the new stretch of bypass, with this now due to take place between October and February.