Boys arrested after chickens killed in Eaton Park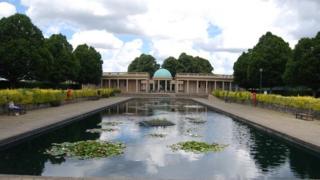 A 12-year-old boy and two 15-year-olds are being questioned by police after two chickens were killed in a Norwich park.
The bantam chickens are believed to have been stolen from a nearby garden and then taken to Eaton Park.
The birds were seen being attacked at about 07:00 BST and police called.
Norfolk Police said the three boys were arrested in Rugge Drive, Norwich, on suspicion of animal cruelty. Officers are keen to speak to witnesses.