Some Hemsby cliff-top homes to be 'demolished'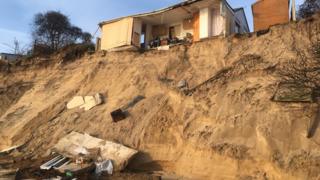 Five homes teetering on the edge of a cliff when sand dunes were washed away during storms will be demolished before Easter, a council says.
Residents were forced to leave 13 bungalows on The Marrams in Hemsby, Norfolk, after they became unsafe.
The wooden chalets started to collapse on to the beach on Tuesday and it is feared some will fall down completely.
Great Yarmouth Borough Council's leader said now the bad weather had subsided they could be dismantled.
On Tuesday, it was confirmed 15 people had been left homeless when the properties collapsed.
Graham Plant said the properties would be removed by the council so they do not become a hazard at the popular tourist beach.
"They are still very precariously hanging on to the edge of that cliff," he said.
"We have got Easter coming up so we have to get those houses moved as quickly as possible."
Mr Plant said the homes' wooden construction meant heavy demolition equipment was not required.
He said he expected workers to knock down the bungalows by the end of next week.
"They have to work out how to move those chalets backwards, which, I presume, will demolish them in the process and then pick up the debris," he said.
"Those houses now represent an environmental danger to the sea and that area so we want to get them demolished."
Eight of the 13 bungalows were permanent homes for 15 people and the borough council has been arranging emergency accommodation.
The houses were evacuated at the weekend, and residents have since watched parts of their homes collapse on to the beach.
Earlier, more damage to the houses could be seen - with chairs, toilets and scraps of timber scattered across the dunes.
Site owners Geoffrey Watling Limited said there were fewer than 40 homes left on The Marrams, as opposed to 240 homes 50 years ago.
Managing agent John Weston said no permanent works to protect the rest of the homes could start until an approved scheme has been agreed by the borough council.
He said: "Resources are reliant on government funding."
Charles Beardall, from the Environment Agency, said it will look at the scheme put forward by the local authority and "see whether it justifies public funding".
He said: "Primarily it's based on the number of households that it will protect judged against the cost of the actual scheme."