That's TV Norfolk 'not producing enough local news'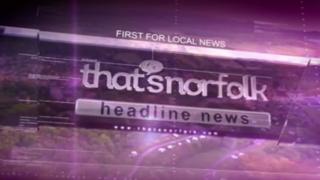 An MP is calling on the media regulator to "make sure" a local television station is abiding by the terms of its broadcasting licence.
The Ofcom licence for That's TV Norfolk says it should broadcast 90 minutes of news and current affairs programming per weekday.
It appears to be producing less than 20 minutes per day and Clive Lewis MP says Ofcom needs to "get a grip on this".
The television company has yet to comment.
Mr Lewis, Labour MP for Norwich South, said: "There is a duty - an obligation from Ofcom - to make sure these licences are doing what they say on the tin."
'Quite bizarre'
Tim Dawson, president of the National Union of Journalists, questioned why That's TV Norfolk regularly broadcasts material made for its sister station in Cambridge.
"You don't have to scratch the surface of most towns and cities to find more stories than you know what to do with," he said.
"The idea that you'd need to go to Cambridge to fill things in a broadcast in Norwich is quite bizarre."
The terms of the station's licence were set when Mustard TV, which began broadcasting in 2014, was owned by newspaper publisher Archant.
Mustard TV received funding from the BBC licence fee, however, accounts registered at Companies House show the station lost more than £2m over five years.
Archant sold Mustard to the That's TV group last year.
Local television franchises
Local television was the vision of the then culture secretary Jeremy Hunt
Launched in 2011, the idea was to emulate US city-based local television
Suggesting the new services would be "hyper-local" Mr Hunt said that UK media was "chronically over-centralised"
He said: "It is crazy that a city like Sheffield, for example, does not have its own television station like it would have in most other developed countries"
With £40m of BBC licence fee funding used to help establish the new services, there are now 30 stations in the UK
Most have struggled financially and have asked Ofcom for permission to reduce the number of locally-produced hours
The That's TV group holds 14 licences, for cities including Swansea, Preston and York.
In 2017 a complaint was made about That's TV Cumbria's news programme, after the screen remained blank whilst a presenter was heard swearing.
Ofcom also investigated the technical quality of the firm's services in Manchester, Southampton and Oxford, following complaints about sound and video problems.
A spokesperson for Ofcom said it would assess whether That's TV Norfolk is "complying with its programming commitments in accordance with our procedures".
That's TV has been repeatedly approached for comment, but has yet to do so.