Campaign to keep mustard in Norwich raises £14,000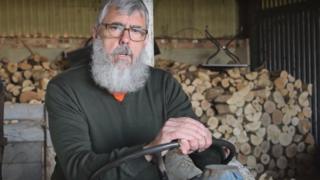 A campaign to keep mustard production in Norwich after the decision by Colman's to leave the city has raised nearly £14,000.
In January, Colman's owner Unilever decided to end 160 years of manufacture in the city famed for its mustard.
Following the decision, a new co-operative called Norwich Mustard started a crowdfunding campaign to raise the funds to produce mustard.
Work has now started on plans to launch the product in July on Norfolk Day.
The campaign has now raised £1,800 more than its £6,000 target, while the National Lottery's Power to Change fund, which helps fund community projects, is providing match funding of £6,000.
The Colman's legacy
The company was founded in 1814 by Jeremiah Colman at Stoke Holy Cross, near Norwich
In 1858, it moved to its current site at Carrow
Colman's was granted a royal warrant in 1866
The firm merged with Reckitt and Sons in 1913 to become Reckitt and Colman
In 1995 Colman's became part of Unilever's Van Den Bergh Foods
The Mustard Shop - by now a social enterprise - closed in 2016 when its lease ended​
Robert Ashton, who has championed the plans, said he was "humbled" by the generosity of the 184 people who had contributed to the crowdfunding campaign.
He said he was now registering the co-operative and would launch a share issue in the spring.
Mr Ashton has also selected two growing sites and brought in a former Colman's employee to advise him.
He added: "The depth of feeling around the closure of Colman's - the fact there's been mustard production in the city for 160 years - there's been so much angst that we had to focus it on something forward-looking. Norwich Mustard will fill that space."
Mr Ashton said tests on the first products will start in the spring, ready for launch on 27 July.