'Good Samaritan' Richard Fiddy died during car snow rescue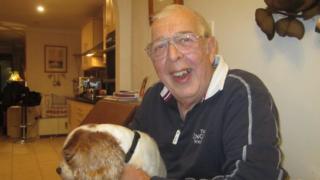 An elderly man who died of a suspected heart attack while trying to rescue a motorist trapped in snow was a "Good Samaritan", his family say.
Farm worker Richard Fiddy, 74, came across an estate car stuck in a snowdrift near Norwich on Thursday.
He tried to shovel snow from around the wheels of the vehicle but collapsed in the -4C temperatures. He was pronounced dead on arrival at hospital.
His stepdaughter Esther Bryan said: "It was in his nature to help people."
Ms Bryan said: "If anyone was in a muddle, he would always go to help. He was a proper Norfolk countryman and enjoyed lots of outdoor pursuits.
"He always had the right tool for a job and was well prepared for the snowy weather with a spade in his car."
Mr Fiddy, of Mattishall, near Dereham, had been driving down the country lane in Bergh Apton after being diverted because of drifting snow.
Heart medication
He had been returning home after dropping off his partner Heather Savory in Beccles, Suffolk, to meet friends ahead of a trip to India.
Ms Savory, 64, who was Mr Fiddy's partner for 30 years, said: "Richard had a faulty heart valve in 1999 and spent three weeks in hospital. He had been on medication for it ever since.
"But he was always fit and active and was riding his motorcycle until last year.
"He was clearing snow from his front path on Thursday morning."