Storm Emma litters Hunstanton beach with dead marine life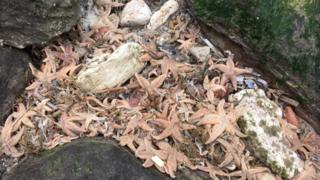 Dead marine life, debris and mysterious "solid deposits" have been washed up on the beaches of West Norfolk in the wake of Storm Emma.
Strong winds and large waves left hundreds of starfish and shellfish on the miles of beaches between Hunstanton and Old Hunstanton.
They also brought in what the borough council called "solid deposits", which are now being analysed.
People are advised to wash their hands after visiting the beach.
"There's no cause for concern but samples have been taken for analysis," said West Norfolk Borough Council in a series of tweets.
"We suggest those with children and animals take extra care to ensure they avoid contact with the objects," the council added.
The Coastal Veterinary Group said on Saturday that the recent high winds had blown in starfish and other marine life on to beaches.
Staff are warning dog owners to beware and keep animals on leads because of recent cases of shellfish and algae poisoning.
"I found that a walk along Hunstanton Beach yesterday that the Beast from the East had not only affected birds but also our marine life such as starfish," RSPB warden Lizzie Bruce said.