Peter Wrighton murder: Ex-soldier jailed for 28 years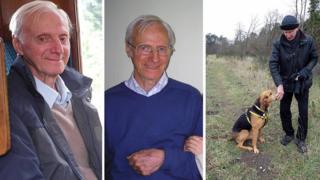 A former commando who killed a vulnerable 83-year-old dog walker in a "savage" attack has been jailed for at least 28 years.
Alexander Palmer, 24, attacked Peter Wrighton from behind, stabbing him 45 times before dumping his body under brambles in Norfolk last August.
Police initially concluded Mr Wrighton had been killed by an animal due to the severity of his injuries.
Palmer, who had denied murder, was given a life sentence.
Sentencing at Nottingham Crown Court, Mr Justice Goose said: "Your offence was substantially aggravated in its seriousness, firstly by the fact that there was a significant degree of planning and of pre-meditation for this murder.
'Dangerous individual'
"Secondly the victim was particularly vulnerable, being aged 83 and alone. Thirdly by the extent of the savage violence you used to kill him.
"You took a knife and drove to the scene for the sole purpose of murder."
The judge added: "You attacked the deceased for no other reason than he was walking his dogs. At the age of 83 and slightly-built he was no match for the violence of your attack."
Mr Wrighton's children, Andrew Wrighton and Carol Todd, watched from the public gallery as Palmer was taken down to the cells.
Palmer's parents were also in court as he repeatedly mouthed the words "I love you" towards them before he was told his minimum term.
David Spens QC, defending, said: "He was suffering from a mental disorder at the time. There is plenty of evidence that he was psychotic.
"The assault on him by a fellow trainee commander back in 2014 appears to have precipitated his mental disorder. There was not any evidence of any aggressive conduct previously."
Although Palmer is now taking prescribed anti-psychotic medication, he was not taking any at the time of the killing, Mr Spens added.
In a statement given after the guilty verdict on Wednesday, Ms Todd said her family had been failed by mental health professionals.
She said: "The revelations of the evidence relating to the mental health of Alexander Palmer have shocked, astounded and angered us.
"We feel this should not have happened and mental health professionals failed him, his family and our family."
Det Supt Marina Ericson described Palmer, of Freesia Way, Cringleford, as a "dangerous individual".
Ms Ericson, who led the inquiry, said Palmer was "callous and extremely calculated in his approach to Peter's death".
"Officers first on the scene described the incident as an animal attack and I think that description is still accurate," she said.
"Palmer is a dangerous individual who was truly animalistic in his actions."
A serious case review into the involvement of police, mental health services and other agencies with Palmer prior to the killing is under way.