Peter Wrighton murder trial: DNA of accused found on clothing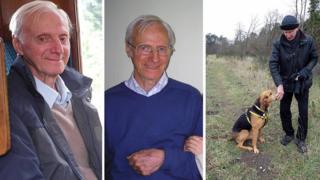 DNA from a man accused of murder was found on the victim's clothing, a court has heard.
Forensic samples from former soldier Alexander Palmer were discovered on a trouser leg belonging to 83-year-old grandfather Peter Wrighton.
His body was found in woodland in East Harling, Norfolk, last summer with 45 knife wounds.
Mr Palmer, 24, who denies murder, will not be giving evidence, Nottingham Crown Court was told.
Mr Wrighton's trousers revealed "a mixed DNA profile" according to evidence read out by prosecutor Stephen Spence.
Mr Palmer's DNA was "fully represented [alongside Mr Wrighton's] in the mixed profile in such a way that in the opinion of the forensic scientist he could be the other major contributor of DNA to the sample", Mr Spence said.
A jacket belonging to Mr Palmer was also found to have traces of Mr Wrighton's DNA, the court was told.
The jury heard samples "from at least one other person" were found on the trouser leg but this could possibly be via "indirect transfer".
Mr Wrighton's body was discovered by dog-walkers and at first the police thought he had been killed by his own dogs.
Earlier in the trial at Nottingham Crown Court, prosecutor Stephen Spence said Mr Palmer told medical professionals a voice in his head called "Little Alex" instructed him to harm or kill people and he had a "grudge against dog walkers".
The trial continues.