Norfolk puppy farm owner gets suspended sentence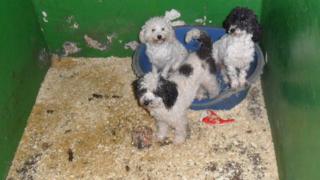 A woman has been given a suspended jail sentence after admitting 17 charges relating to breeding puppies without a licence at her home.
The charges against Rosemary Fabb, 76, of Fern Bank, Roughton included causing unnecessary suffering to an animal.
Norwich magistrates sentenced her to 22 weeks jail, suspended for two years due to her age and infirmity.
Fabb had bred dogs at the site with a licence up until 2014, but failed to get it renewed, the court heard.
Vets were called to the puppy farm by North Norfolk District Council last February and they found dogs kept in facilities which were out-of-date following changes to legislation.
'I know the mafia'
Animals were discovered unvaccinated, with ear infections, dental disease and matted hair covered in faeces and sawdust.
The prosecutor, Lynne Shirley told the court that Fabb had threatened an inspector saying "I know the mafia, and she'd [the inspector] better look out".
The court heard that over the years Mrs Fabb had signed over 30 dogs to the RSPCA but by January this year she still had 10 animals, mainly toy poodles, that she was breeding.
Fabb, who appeared at court in a wheelchair, was disqualified from keeping and breeding animals until further notice and ordered to pay £12,731 costs, to be paid within a month.
Councillor Richard Price said: "We don't take enforcement lightly... we do take animal welfare very seriously, and our licensing team will take action whenever necessary."
All the dogs found have been re-homed by the RSPCA.
In 2016, Fabb was banned for five years from running a riding stable after she was prosecuted for not having a licence to run the Fern Bank Riding School.