Peter Wrighton murder case: Dog walker's injuries 'strange'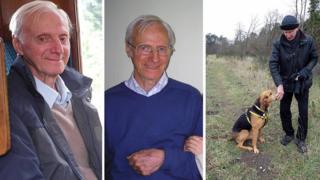 A police officer who saw the body of dog walker has told a murder trial he thought he had been attacked by his own pet because of the "strange" injuries.
Peter Wrighton, 83, was found dead in a woodland near East Harling, Norfolk, in August with neck and throat wounds.
Norfolk Police PC Andrew London told a court he had "never seen anything like" Mr Wrighton's injuries.
Alexander Palmer, 24, admits being in the area at the time of the attack but denies murdering Mr Wrighton.
Earlier in the trial at Nottingham Crown Court, prosecutor Stephen Spence said Mr Palmer told medical professionals a voice in his head called "Little Alex" instructed him to harm or kill people and had a "grudge against dog walkers".
PC London said when he found the body he had "never seen anything like it" and it was surrounded by a "very large pool of blood".
He added: "It was such a strange injury, I thought, 'has he been attacked by his own dog?'."
The court had previously heard police were alerted to Mr Palmer from a psychologist who worked with him at RAF Marham.
The man who dialled 999 after discovering the body of Mr Wrighton, Nigel Precious, told the court he "first thought it was a mannequin".
The trial continues.