Norfolk County Council's 'gleeful' no-gritting tweet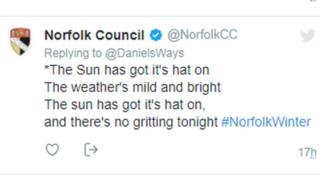 A council is facing a backlash for its "gleeful" tweet about not gritting Norfolk's roads, hours before a spate of crashes in icy conditions.
On Thursday, the county council's social media account said: "The sun has got it's [sic] hat on and there's no gritting tonight #NorfolkWinter".
Temperatures plummeted overnight. Police warned about icy conditions and received 37 reports of crashes.
The council said its tweet was based on the forecast given at the time.
"We try to keep the tone of our social media content light and friendly, so that our messages can reach and engage the widest audience," a spokesman said.
"We published yesterday's tweet in the early afternoon.
"Unfortunately we didn't have the information needed to send the gritters out.
"We're sorry if this meant that some people experienced difficult journeys this morning."
On Friday morning, the council's Twitter and Facebook accounts posted an "icy roads alert" and warned of black ice and urged drivers to take extra care.
Many said it was "too late" and reported seeing vehicles that had careered off the road.
Jo Woods replied: "Tell us about it! My husband's just driven to Wells from Briston, via Fakenham, and saw three cars off the road in fields.
"Clearly the roads haven't been gritted, not even the main roads - shocking."
'Gleeful tweet'
Another woman on Facebook said: "A bit embarrassing given your gleeful tweet yesterday about not having to grit last night.
"I saw 2 vehicles in hedges on the way to work this morning & my colleagues have seen multiple vehicles in hedges on their routes. Not good enough."
Norfolk Fire Service had been called to at least 16 road crashes between 06:23 GMT and 08:58 GMT, mainly on rural roads.
It is understood none of the crashes involved serious injuries.