Norfolk & Norwich University Hospital: CQC issues warning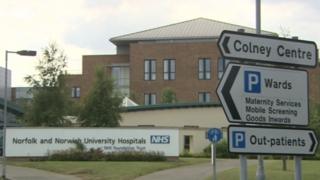 The Norfolk & Norwich University Hospital has been issued a warning to improve its quality of care, following an inspection, as the EDP has reported.
The Care Quality Commission (CQC) stepped in late last year because of concerns over the quality of emergency care.
Now it has been revealed that the CQC has issued a warning.
These are issued to drive through improvements. The hospital said it was addressing concerns.
'Busiest hospital'
The CQC is due to issue its full report next month. Its last report published in August 2017 said the hospital required improvement.
A hospital spokesman said the CQC identified some initial changes to be made and these issues have been addressed.
He added: "The Norfolk & Norwich University Hospital is the busiest hospital in the East of England on some days.
"We have seen up to 180 ambulances a day coming to Norwich & Norfolk Hospital.
"There was some limited disruption while we were changing the building to create the older people's emergency department."
He added that the patient experience was described as "excellent" with staff described as being "caring and supportive".