Bullied 'Trash Girl' Nadia Sparkes in planet clean-up plea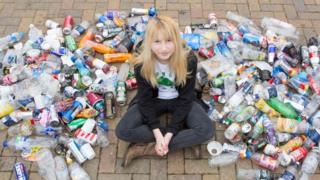 A student who was branded "Trash Girl" by bullies for clearing litter from the streets has drawn praise from across the globe and started a campaign to get others to join her.
Nadia Sparkes, 12, from Norwich, began litter-picking on her journey to and from school last year, leading fellow pupils to give her the nickname.
But she refused to stop, saying the name made her sound "like a superhero".
On Facebook she is asking people to "pick up three pieces of litter today".
Nadia took to cleaning up the streets after being shocked by the number of discarded cans and bottles she saw as she cycled to and from school in Hellesdon.
She would fill her bicycle basket with litter, leading to the nickname.
Children were "throwing things at her and calling her Trash Girl", her mother Paula Sparkes said.
However, Nadia embraced the name, saying: "It just sounds like a superhero".
Since her story was publicised in papers and on TV she said she has received hundreds of messages of support, some from as far away as New Zealand.
One person said: "It takes a lot of courage and determination to lead the way."
She was also praised for "sticking to her guns".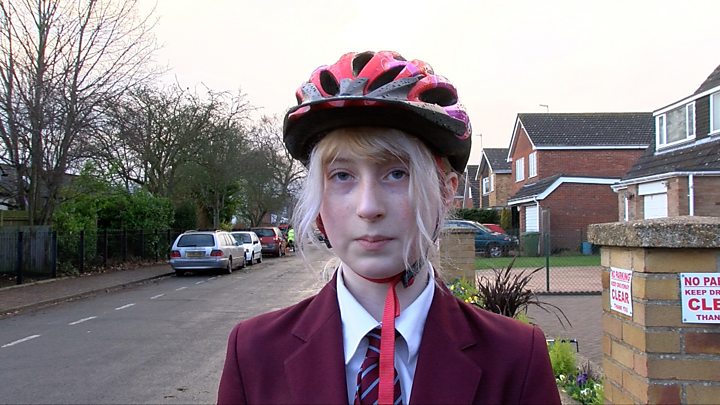 Nadia and her mother have now started the Team Trash Girl Facebook group to thank people for their support.
"I also wanted to find a way to help everyone support one another - to help fix the planet's problems before it becomes unfixable," Nadia wrote on the page.
"So, please try to pick up three pieces of litter today."
She said the bullies have also backed down since her exploits gained praise and are being "a lot nicer to me".
Mrs Sparks keeps all the litter her daughter collects safely stored away and said her school is thinking about turning it in to an art project.