Four dead seal pups found huddled on Norfolk beach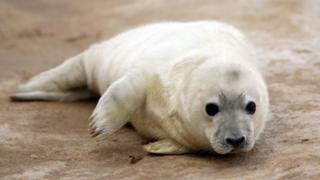 Four grey seal pups have been found dead on a beach, prompting fears they may have been frightened to death.
The pups, thought to be about two weeks old, were discovered together at Winterton-on-Sea, Norfolk, on 7 January.
Wardens who raised the alarm said the pups were the same age and had not been fully weaned.
A local seal protection group said it was "very rare" to see four different mothers abandon their young.
Grey seal pups have distinctive white coats and spend their first three weeks on the beach.
Read more Norfolk stories here
The three-mile stretch of Norfolk coastline is home to a thriving colony of seals at Horsey and Winterton-on-Sea, and pups can be found on the sand between November and early February.
The area is patrolled by wardens during this time.
It is also around 40 miles (64km) from Blakeney Point, the largest grey seal colony in England, which has also seen record birth numbers this season.
Peter Ansell, chairman of the Friends of Horsey Seals, said the young pups had not fully weaned, suggesting something had scared their mothers off.
"We don't know whether it was intentional or maybe even just someone walking their dogs on the dunes," he said.
"If people would only step back and think - these are wild animals in their own natural habitat. They must be left alone."
Mr Ansell added that it was "very rare" to see four dead "in a single huddle".