Medieval Norfolk talisman cross found by detectorist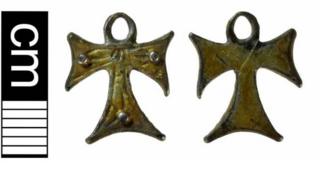 A silver gilt pendant worn to ward off a "widespread" medieval disease that caused hallucinations and gangrene has been found by a metal detectorist.
The 14mm by 12mm (0.5in by 0.4in) cross was discovered near Wramplingham in Norfolk.
Its wearer hoped it would protect against St Anthony's Fire - a fungal disease of cereal grasses known today as ergot.
Norwich Castle Museum hopes to buy the late medieval cross.
Norfolk's finds liaison officer for the county's Historic Environment Service, Julie Shoemark, said St Anthony's Fire was "a widespread problem in the 15th Century".
She added it was "believed to be caused by bewitchment".
"The symptoms include, but are not limited to, mania, convulsions, skin lesions and, eventually, gangrene, so not a pleasant experience," she said.
Monks from the Order of St Anthony were known for nursing people who suffered from the disease.
Its cause was not discovered until 1670.
The find was declared treasure by the county's coroner on Friday.
Once a value has been set for it, Norwich Castle Museum hopes to purchase it for display.