Winterton beach: Divers conduct controlled explosion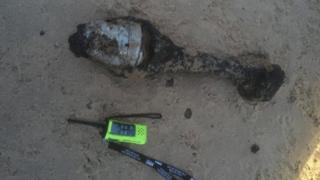 An unexploded device found on a beach has been detonated in a controlled explosion by Royal Navy divers.
The object was found at Winterton-on-Sea near Great Yarmouth on Tuesday.
HM Coastguard at Humber called in the Joint Services Explosive Ordnance Disposal Unit, a spokesman told the BBC.
A diving team looked at the device, probably from World War Two, and it was destroyed by a controlled explosion at 09:00 GMT on Thursday.