Sit down or risk losing seat warning to Norwich City fans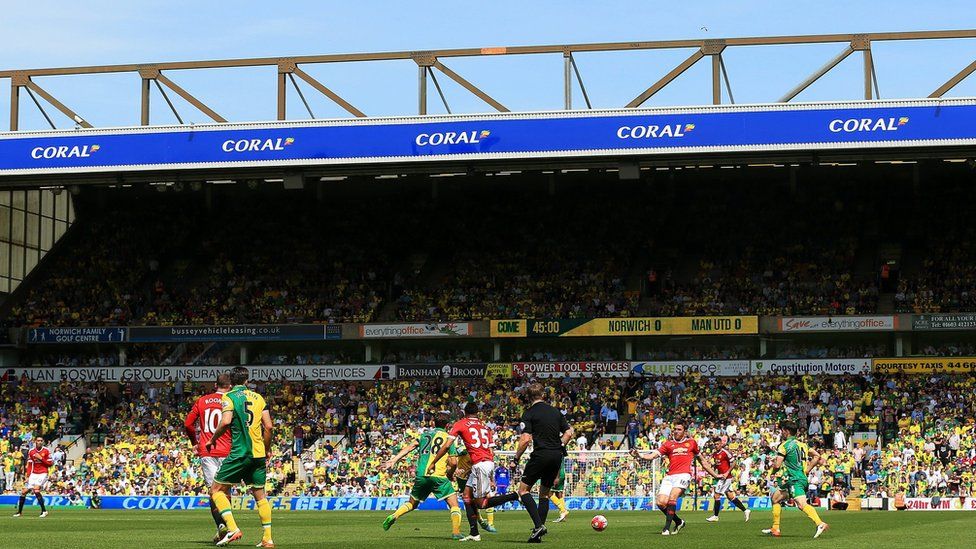 Football supporters have been sent a letter warning them to sit down during matches or risk losing their seat.
Norwich City said it is under "direct threat of having capacity reduced" after being told standing levels in its all-seater stadium was "unacceptable".
Fans in one section of its Carrow Road ground have been told to stay seated at their next home game on Saturday.
A club spokesman said it issued the ultimatum after consultation with the body that grants safety certificates.
He added the Championship club had been working with the Norfolk Safety Advisory Group to "tackle an issue with persistent standing in Block A of the lower Barclay Stand this season".
"This follows very strong complaints from season ticket holders in that area whose views of the game have been partially or wholly obstructed for long periods due to people persistently standing in front of them," he said.
Persistent standing in all-seater stadiums in the top two divisions of English football is not permitted as a result of the Taylor Report, published in 1992 after the Hillsborough disaster.
Norwich City said stewards who had asked fans to sit during matches had been "met with resistance and in some cases intolerable verbal abuse".
Founder of the Barclay End Norwich Supporters' Club, Neil Thomas, said: "We obviously don't want any areas being closed in the ground. I feel this is something that has been forced upon the club.
"We've been pushing for safe standing for quite a while, obviously that needs a legislation change to happen, but people do have the expectation to stand if they are in a more vocal area of the ground."
The club has said recently it is exploring implementing safe standing at Carrow Road, should it be permitted in the future.
Related Internet Links
The BBC is not responsible for the content of external sites.