Trafalgar College and Great Yarmouth Charter Academy merger 'done deal'
By Mariam Issimdar
BBC News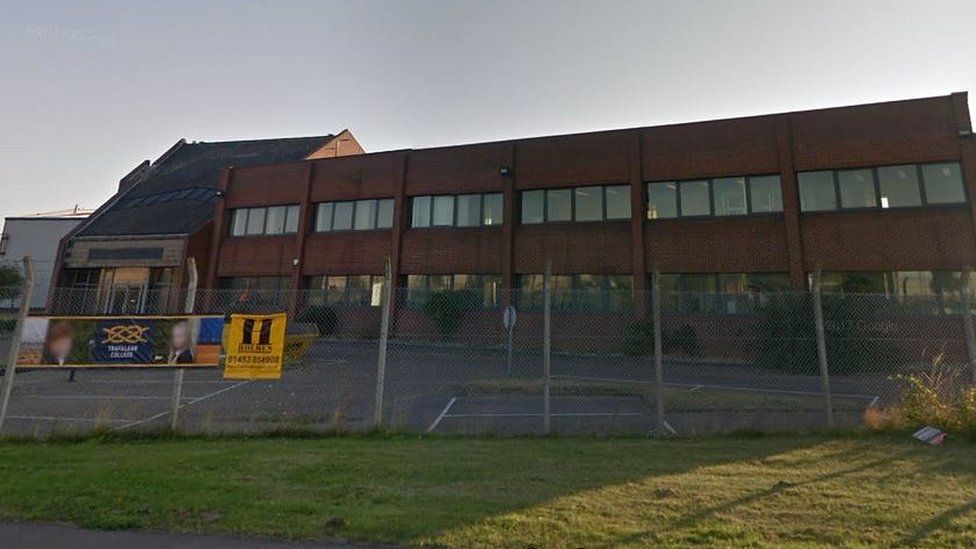 A fiercely-opposed merger between two schools was "agreed" months before a public consultation began, emails seen by the BBC suggest.
In September, academy chain Inspiration Trust revealed plans to merge Trafalgar College in Great Yarmouth, Norfolk, with another school in the town.
Parents said the move would jeopardise their children's education.
They said the emails showed the plan was a "done deal". The trust denied parents had been misled.
Inspiration Trust opened Trafalgar College in Thamesfield Way as a new free school in autumn 2016, promising "a fresh focus on high academic standards".
Ten months later, the trust took over Great Yarmouth High School (GYHS), which had the worst GCSE results in the county, renaming it Great Yarmouth Charter Academy (GYCA).
Shortly after it opened, the trust announced it wanted to merge the two schools on the GYCA site in Salisbury Road, due to pupil numbers not rising as forecast.
But emails, released by the Department for Education (DfE) to the Keep Trafalgar College Separate parents' group under the Freedom of Information Act, reveal the merger was at an advanced stage much earlier.
The emails detailed discussions involving Inspiration Trust, the DfE and others.
They were mostly between Dr Tim Coulson, then regional schools commissioner, and Michael Boon, chairman of the Great Yarmouth Grammar Foundation, the charity responsible for GYHS.
In one message, dated 5 March, Dr Coulson wrote: "We were all agreed that the ideal way forward would be that the GYHS site continue to be used as a secondary school and that it be enlarged in return for not continuing with Trafalgar."
He continued: "The way to get capital into GYHS would be for the current school to close and the pupils to join the Trafalgar school that is then sited on GYHS."
A further email, dated 19 April, from Mr Boon to Dr Coulson, refers to a meeting on 6 March on how to "amalgamate" the two schools.
In it, Mr Boon thanked Dr Coulson for his phone call "in which you confirmed that the education minister had agreed funding promised for Trafalgar... could now be used on the High School site and that in consequence detailed discussions about the proposal could now go ahead".
Louise Alderman, of Keep Trafalgar College Separate, said: "We feel that none of these bodies should have entered into any agreements without consulting the families of the 150 or so children attending Trafalgar College whose education will now be significantly disrupted by this."
Inspiration Trust spokesman James Goffin denied parents had been misled, explaining that they could not be told about merger proposals until after the summer when it was "absolutely certain" that the high school would join the trust.
"It was not until then that our trust board could meaningfully discuss the future of the two schools and agree the best approach to take to consultation," he said.
Mr Boon, of the Great Yarmouth Grammar Foundation, said: "I did my best to secure the future of GYHS, and its successor deserved more support than in the past.
"I took my policy direction from Tim Coulson and the minister."
Dr Coulson has been asked for his response but has yet to comment.
Keep Trafalgar College Separate said it would now be seeking an independent review of the merger going before the DfE.
'Committed to academic excellence'
Inspiration Trust runs 14 free schools and academies in Norfolk and Suffolk.
It says it is "committed to academic excellence at all levels for all children".
The trust was founded by Lord Theodore Agnew, who stepped down as chairman after being appointed as an education minister on 29 September.
Its chief executive Dame Rachel de Souza, who was appointed by Dr Tim Coulson in 2014 to the regional schools head teachers board, resigned from the board in September.
Dr Coulson announced on 21 April that he would be standing down as regional schools commissioner.
He has taken up the post of chief executive of Samuel Ward Academy Trust in west Suffolk, responsible for some 15 academies.
Related Internet Links
The BBC is not responsible for the content of external sites.